Regulatory Compliance Reporting
Accurate and efficient reporting is an essential part of your propane operation. P3 Propane Safety simplifies the propane reporting process with innovative new features in the reporting sector, including automated reports and multilocation reporting for your convenience. This page details the various types of reporting available to propane marketers who are taking advantage of the offerings of the P3 Compliance System and P3 Mobile App.
Available reports include:
Regulator expiration report
Tagged equipment and container report
No Duty to Warn customer signature report
Photo documentation
Monthly meter creep test
DOT cylinder
Cathodic inspection
CSST flash
Operating test (leak check, pressure test, flow and lock-up)
Field performance activity
Priority follow-up
Safety inspections
And more
TRY P3, NO STRINGS ATTACHED
Automated Propane Safety Reporting
When you use P3's automated reporting functionality, there's no need to juggle and update multiple spreadsheets. Reports for the following propane safety inspections are created automatically upon entry of inspections using our mobile documentation service:
DOT cylinders
Cathodic protection inspections
Regulator replacements
Tank sets
And more
Multi-Location Reporting
This is a significant and powerful feature for propane companies with multiple locations. You've heard it before: if it isn't documented, it didn't happen. Make your multi-location reporting a breeze with the P3 Compliance System, which is designed for multiple propane marketing locations.
It's easy to toggle between locations. Simply select different locations in the drop-down menu.
Compare multiple locations easily to find opportunities for additional training and follow-ups.
Benefit from management tools such as quickly identifying which locations are falling short.
Photo Documentation

Cathodic Protection Inspection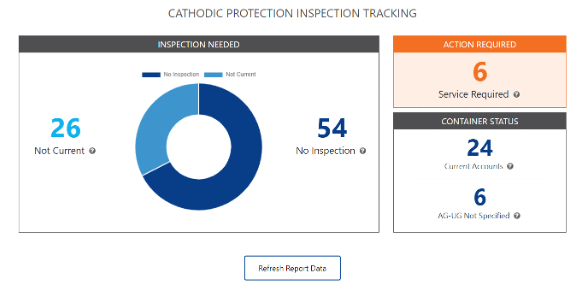 Code & Compliance Summary